Electronics
STMicroelectronics Announces Highly Integrated Intelligent High-Side Driver for Automotive Applications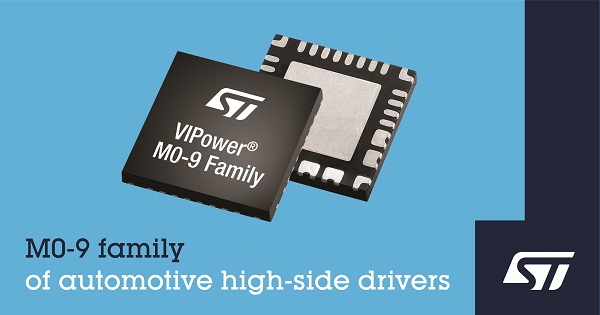 October 22, 2021: STMicroelectronics' VN9D30Q100F and VN9D5D20FN announce the market's first new-generation automotive intelligent switch with digital current detection in a fully digital on-chip diagnostic function. Designed for high-side connectivity in applications powered by a 12V battery, the driver simplifies electronic control unit (ECU) hardware and software design and increases system reliability.
The new device leverages ST's latest generation VIPower * M0-9 technology to combine efficient 40V trench vertical MOSFETs with 3.3V digital logic and precision analog circuitry in a 6mm x 6mm QFN package. Their compact dimensions and high degree of integration save up to 40% on PCB area compared to comparable driver ICs already on the market.
The VN9D30Q100F has two 33mΩ channels and four 90mΩ channels. The VN9D5D20FN has two 7.6mΩ channels and two 20mΩ channels. Each has up to 6 output channels and a 4-wire SPI interface, reducing the number of microcontroller I / O pins required to interact with the device. It also features an integrated pulse width modulation (PWM) generator with 0.1% resolution, providing convenient and accurate control signals at each output to handle functions such as lamp dimming.
The diagnostic circuit features an analog-to-digital converter (ADC) that operates continuously with 10-bit resolution and 5% accuracy to provide a digital reading of load current and case temperature. This eliminates the ADC dependency of the host microcontroller. The ADC Task Manager synchronizes with the driver's PWM engine to ensure that diagnostics for each output channel are automatically performed in the appropriate time frame without the intervention of a microcontroller. There are also two one-time programmable (OTP) inputs to manage operation in limp home mode in the event of a system failure that loses control of the entire host MCU.
These new devices not only reduce customer hardware costs by minimizing power consumption and PCB design complexity, but also provide AUTOSAR compliance by providing complex drivers that operate independently of the application. Simplifies and facilitates software development.
The VN9D30Q100F and VN9D5D20FN are currently available and are priced at $ 1.070 for the VN9D30Q100F and $ 1.563 for the VN9D5D20FN, with 1000 orders.
For more information, please visit www.st.com/m0-9-high-side-drivers.
https://electronicsmaker.com/stmicroelectronics-launches-highly-integrated-intelligent-high-side-drivers-for-automotive-applications STMicroelectronics Announces Highly Integrated Intelligent High-Side Driver for Automotive Applications