Electronics
SICK's Active Forklift Assistance warns the operator on reversals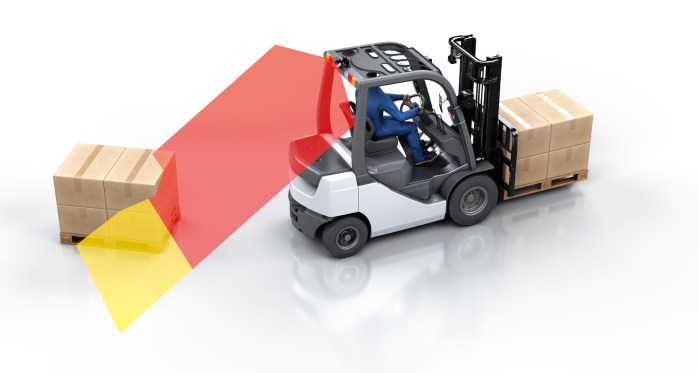 SICK has developed the SICK Backup Assistance System (BAS), a customizable active collision warning system for manned forklifts. This warns the driver to prevent collisions with people or objects that have limited visibility in blind spots or when moving backwards.
With approximately 1,300 UK employees hospitalized each year after being seriously injured after a forklift accident *, the main factors are lack of driver concentration or increased speed and movement due to high productivity goals. There is a possibility.
SICK BAS is based on robust and reliable SICK LiDAR sensing technology that can be easily added to most forklift types with minimal investment. Unlike other active technologies, SICK BAS eliminates the need to attach expensive additional equipment to surrounding obstacles. Therefore, operators in factory and logistics environments have new opportunities to reduce the risk of forklift accidents in a cost-effective manner.
Active collision warning
"Forklifts are widely recognized as one of the greatest workplace safety concerns for pedestrians and one of the highest risks of serious injury," said SICK, UK National Systems Products Manager. Neil Sandhu explains. "Unlike when driving a car, forklift drivers can turn around for hours during the day, so special attention should be paid to the possibility of a collision.
"But many forklift collision warning systems are passive, which means they always use audible alarms, warning lights, or distracting in-car driver camera displays. Some active warning concepts, such as radar, have been around for a long time. Although available, SICK BAS is an affordable stand-alone system that does not require the installation of reflectors or transmitters throughout the production hall or logistics hall, no staff required, wearing special pads or tags. please."
The SICK Backup Assistance System uses a new concept based on the SICK TiM351 LiDAR sensor to warn only when a stationary or moving object or person is detected. Consisting of a SICK Tim351 LiDAR sensor, a control unit, and a signal light bar with an audible alarm, the SICK BAS is easy to install and requires less power to minimize vehicle battery drain. Mounting accessories such as weatherproof hoods and shock absorbing brackets to help increase vibration are available.
One or two SICK Tim351 LiDAR sensors can be attached to the forklift to cover the required area. It can also be installed so that the sides of the vehicle can be seen. The surveillance area is scalable and can be adjusted using the vehicle's flexible mounting options. Therefore, SICK BAS is well suited to ensure targeted coverage of known blind spots and also optimizes coverage of the area up to the side of the forklift, which can limit the driver's view.
Universal standalone solution
SICK BAS is a universal solution with kits that fit a variety of common forklift voltages and electrical systems. With the SICK TiM351 LiDAR sensor, you can customize two warning fields to suit your vehicle type and surrounding infrastructure. Fields can be easily set using a standard PC and SICK's SOPAS software engineering tools.
Based on a customized field, the driver will hear a stack of traffic lights and a beep first, then a constant audible alarm, and a warning when an obstacle approaches the vehicle, allowing the driver to hear obstacles and people. You can take action at the right time each time you appear in the car. The field of view of the system.
The SICK TiM351 LiDAR sensor has an invisible 270 ° infrared 2D scan plane and uses a unique integrated SICK algorithm to make it more resistant to environmental conditions. SICKBAS, which is connected to the vehicle drive system, is only enabled when the vehicle is moving backwards. Therefore, it is not affected by frequent false triggers that can be a nuisance in other detection techniques such as ultrasound. Therefore, the operator remains vigilant and has full control over the lift truck.
SICK BAS is a driver assistance system that has already been proven in Europe and the United States and is first available to operators in the United Kingdom. As a support system separate from the certified safety system, it does not replace the need for complete risk assessment, proper training, and the provision of properly separated pedestrian zones.
The SICK BAS comes with a complete operating manual and the SICK operator training program is available on request.
For more information on SICK BAS, please contact Andrea Hornby (01727 831121) or email us. [email protected]..
* Peter Harvey, Forklift Truck Association, "Very expensive forklift accident, Safety Management, September 2017.
Relation
https://industrialnews.co.uk/sicks-active-forklift-assistance-warns-operators-when-reversing/?utm_source=rss&utm_medium=rss&utm_campaign=sicks-active-forklift-assistance-warns-operators-when-reversing SICK's Active Forklift Assistance warns the operator on reversals