eSOL has announced that it will release a new version of the CC-Link IE TSN SDK next spring. The eSOL CC-Link IE TSN SDK supports the open industrial network "CC-Link IE TSN" defined by the CC-Link Partner Association.
The eSOL CC-Link IE TSN SDK shortens the development period for industrial equipment that supports the CC-Link IE TSN standard, and supports the construction of industrial networks that combine factory automation and IT systems.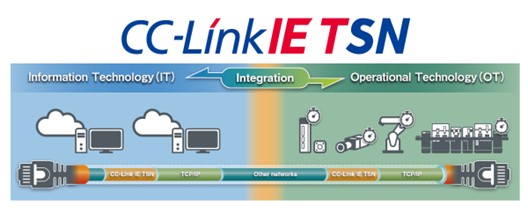 In the field of industrial automation, the use of IoT is rapidly expanding due to the diversification and sophistication of demands for automating manufacturing processes and improving quality and productivity. Therefore, there is a demand for the realization of a smart factory that connects all equipment to the network and manufactures efficiently.
Along with this announcement, eSOL will release new versions of "eSOL CC-Link IE TSN (Master) SDK" and "eSOL CC-Link IE TSN Safety SDK" that support the latest standards of the CC-Link Partner Association. We will contribute to the realization of a more seamless open network by improving communication compatibility, expanding the range of connectable products, and building a safety system with high response performance (IEC 61508 SIL3 compliant).
CC-Link was developed by Mitsubishi Electric Corporation in 1996 with the aim of interoperating with a wide variety of industrial equipment, and in 2000 the specifications were released as an open industrial network. Later that year, the CC-Link Partner Association was launched to promote and facilitate the global use of CC-Link. Currently, more than 4,000 overseas companies are participating in the CC-Link Partner Association as partners, and eSOL will be one of them from September 2021.
Currently, devices compatible with the CC-Link family include PLCs, robots, inverters and servo equipment, sensors and encoders, digital/analog input modules, PCs, displays, load cells and indicators, gateway equipment, and solenoid valves. Currently, there are more than 2,600 CC-Link family certified products, and the number of CC-Link IE TSN compatible products is increasing.
The network technology of the CC-Link family started with the serial communication-based CC-Link and expanded to the Ethernet-based CC-Link IE Field, CC-Link IE Field Basic, and CC-Link IE TSN. CC-Link IE TSN is an open industrial network established by the CC-Link Partner Association in 2018. Standard Ethernet specification. The efficient protocol further enhances the performance and functionality of traditional CC-Link IE. In addition, this technology enables implementation in a wide variety of devices through a variety of development methods, as well as the coexistence of information communication by control communication and IP communication. We support the efficient construction of smart factories using IoT in a short period of time.
With the release of the eSOL CC-Link IE TSN SDK, the company is promoting IoT in the field of industrial automation and contributing to technological development in the industry.
https://www.wnie.online/new-software-development-kits-supporting-open-industrial-network-cc-link-ie-tsn-to-be-released-next-spring/ New software development kit compatible with open industrial network CC-LINK IE TSN to be released next spring