Electronics
Mouser ships the TDK InvenSense smart industrial sensor family for a variety of industrial applications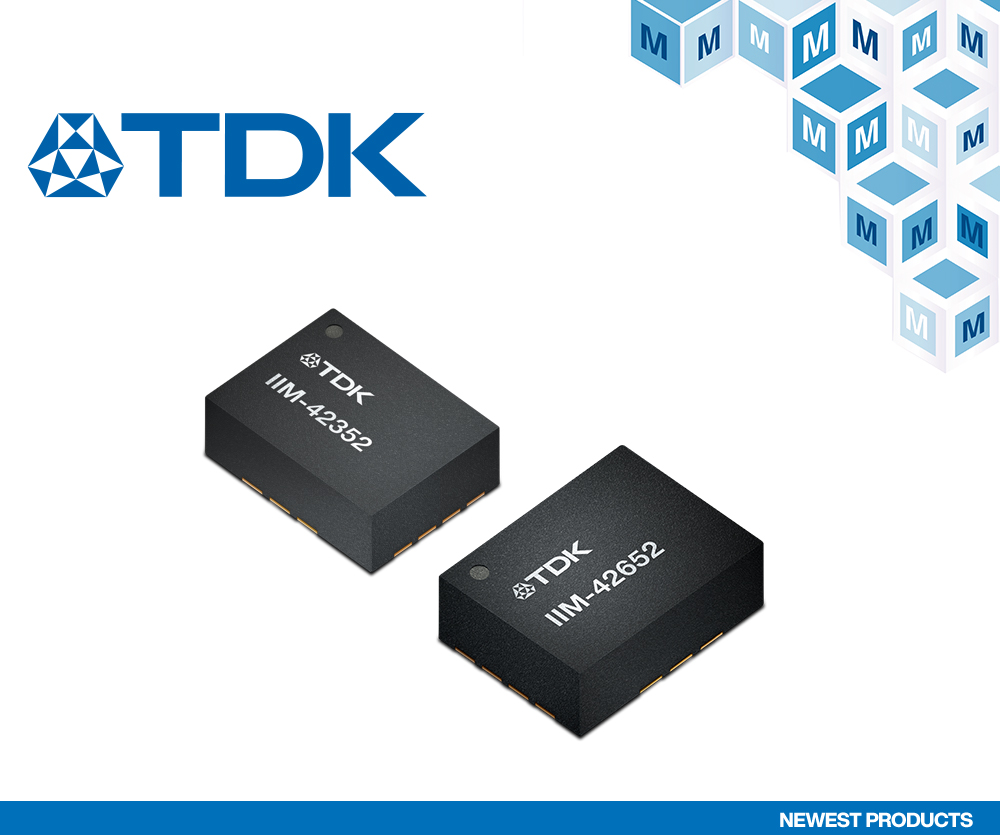 May 3, 2021 – Mouser Electronics, Inc., a certified global distributor of the latest semiconductors and electronic components. Offers the Smart Industrial ™ sensor family of Invensense, a TDK Group company. These compact, high-precision, low-cost accelerometers and motion sensing microelectromechanical systems (MEMS) modules offer a wide range of sensing options for industrial applications such as robotics, tilt sensing, platform stabilization, navigation, and industrial automation. To the engineer. ..
The Smart Industrial product family available from Mouser Electronics includes the IIM-42351 and IIM-42352 sensors. The very low noise 3-axis accelerometer has a digital output programmable range of a small 2.5mm x 3mm x 0.91mm 14-pin LGA package up to  16gin. The IIM-42351 accelerometer enables accurate tilt detection of industrial and Internet of Things (IoT) devices such as robotic arms, AGVs, utility poles and cameras. The IIM-42352 accelerometer measures a wide range of vibration frequencies up to 4 Khz, enabling predictive maintenance of rotating equipment such as pumps, motors and compressors to help identify failures before they occur.
The IIM-42652 is the smallest, most cost effective and lowest power 6-axis inertial measurement unit (IMU) in the Smart Industrial product line. With the same dimensions and 3-axis accelerometer performance as the IIM-42351 and IIM-42352, the IIM-42652 also has a digital output 3-axis gyroscope that provides a programmable full-scale range of ± 15.625 ° / sec. It contains. ± 2000 ° / sec. The compact module supports an extended operating temperature range of up to 105 ° C, allowing engineers to design modules for a wide range of industrial IoT applications, including navigation and stabilization of industrial machines and robots.
Coming soon from Mouser are the IIM-46230 and IIM-46234 4-axis Motion Tracking® devices, which provide easy, robust, and accurate inertial measurements for industrial applications. These devices include a unique TDK SensorFT ™ (Fault Tolerance) feature that provides built-in redundancy and early warning capabilities.
IIM-42351, IIM-42352, and IIM-42652 are supported by evaluation and development kits also available from Mouser Electronics. Each device evaluation kit provides a fully assembled and tested evaluation board that can be used as a stand-alone board or connected to the corresponding development kit. Each development kit contains a hardware unit for evaluating each Smart Industrial sensor and all the required software.
For more information on SmartIndustrial Sensors, please visit https://www.mouser.com/new/tdk/tdk-smartindustrial-sensor-platforms/.
As a global authorized distributor, Mouser stocks the world's widest range of the latest semiconductor and electronic components and is ready to ship. Mouser customers can expect 100% certified genuine products that are fully traceable from each manufacturer's partner. To speed up customer design, Mouser's website includes a wide range of technical resource centers, along with product datasheets, supplier-specific reference designs, application notes, technical design information, engineering tools, and other useful information. There is a library of technical resources.
https://electronicsmaker.com/mouser-now-shipping-tdk-invensense-smart-industrial-sensor-family-for-variety-of-industrial-applications Mouser ships the TDK InvenSense smart industrial sensor family for a variety of industrial applications