Electronics
Mouser Electronics Announces Global Sales Agreement with Kaga Electronics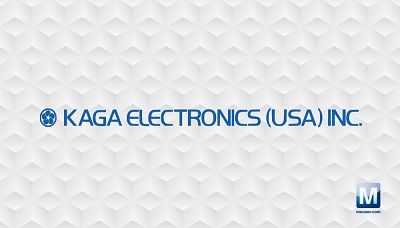 August 2, 2021 – Mouser Electronics, Inc., a certified global distributor of the latest semiconductors and electronic components. Announced a global sales agreement with Kaga Electronics, a leading supplier of electronic components to companies around the world. With this agreement, Mouser will offer a FURUNO multi-GNSS device with Dynamic Satellite Selection ™, a new satellite signal selection algorithm developed by NTT that minimizes time synchronization performance degradation by selecting only high quality satellite signals. Provide to customers. FURUNO multi-GNSS devices are ideal for communications and broadcast applications such as single satellite tracking and multipath mitigation.
The FURUNO GT-88 is a completely stand-alone, precision, stable GNSS receiver. The module features a dynamic satellite selection algorithm that provides accurate 1 pulse / second (PPS) signals including GNSS position, velocity, and time (PVT) information over a serial communication channel. The FURUNO GT-88 Timing Multi GNSS Receiver Module uses a single band receiver to achieve high stability of 4.5ns (1 sigma), delivering the performance required for 5G technology.
The FURUNO GT-88 Evaluation Kit evaluates the complete performance, functionality, and functionality of the GT-88 receiver. The evaluation kit includes a CD containing a multi-GNSS antenna, a USB cable, a USB driver, and documentation.
The FURUNO GF-880x Multi-GNSS Discipline Oscillator can provide PVT information for GPS, GLONASS, QZSS, Galileo, and SBAS technologies. The oscillator features a dynamic satellite selection algorithm and active anti-jamming capabilities, suppresses the effects of CW jammers, provides 1PPS with high accuracy and stability synchronized with UTC, and continuously delivers 10MHz. Control
The FURUNO GF-880x Evaluation Kit allows you to evaluate the characteristics, functionality, and performance of each oscillator. In addition to the evaluation platform with oscillators, each kit includes a conversion cable, a USB cable, a multi-GNSS antenna, and a CD with monitoring software and other specifications.
For more information on Kaga Electronics' Furuno products, please visit https://www.mouser.com/manufacturer/kaga-electronics/.
As a global authorized distributor, Mouser stocks the world's widest range of the latest semiconductor and electronic components and is ready to ship. Mouser customers can expect 100% certified genuine products that are fully traceable from each manufacturer's partner. To speed up customer design, Mouser's website includes a wide range of technical resource centers, along with product data sheets, supplier-specific reference designs, application notes, technical design information, engineering tools, and other useful information. There is a library of technical resources.
https://electronicsmaker.com/mouser-electronics-announces-global-distribution-agreement-with-kaga-electronics Mouser Electronics Announces Global Sales Agreement with Kaga Electronics