IT
5 Ways to Alliance with LGBTQIA + Colleagues at Work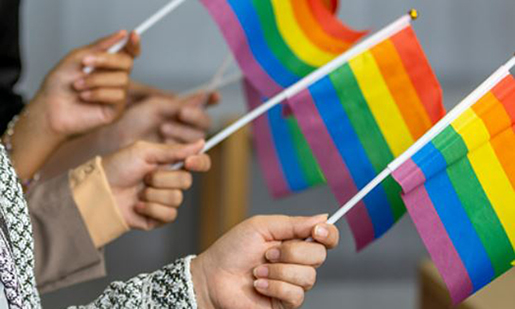 June is Pride Month, a time to reflect and inspire your LGBTQIA + communitymates. Learn 5 ways to foster a safe and comprehensive work environment and be on the side of your queer colleagues.
Pride Month is a time to look back on LGBTQIA + buddies, cheer them up, and honor queer buddies who have paved the way for freedom. We are all pretty cool people and it's time for us all to be more familiar.
As a person identified as a T in LGBTQIA +, I have found the alliance to be of great value to myself and my queer companions. Coming out and living our truth is a process that looks like eternity. As we become more comfortable with each other, we have to meet new colleagues. Its credibility is important. Before I came out I often felt scared and not real. Visibility is very important in the challenges we face and we need the help of our allies to move forward together.
Here are five ways to be a better ally with your queer colleagues. These are very important in my work at Datto's Pride Employee Resource Group.
We respect our privacy and support the development of a safe environment
This may seem obvious, but privacy is an important resource. Privacy is a top priority for many queer foxes. There are many reasons why privacy is needed. In order to treat us properly, our allies need to respect that you have information about individuals to whom you are not entitled.
Fostering a psychologically safe environment is important to help us reach our true potential. Having someone in front of you gives you a sense of security.
One way to do this is to ask, "Is it okay to talk now?" When starting a sensitive conversation. The free-form nature of the question covers both physical and psychological safety and helps relieve fear without asking directly.
Work with us, not around us
Working with us feels empowered. When we feel empowered, we will want to work smarter and work more with you. This is crucial for all of us to succeed in our efforts. It makes us better colleagues, and perhaps even friends.
Working around someone means that that person may not actually be worth the job, which can cause problems for the team. This person may feel like someone else, and their team will probably resent them over time.
One way to promote collaboration and empower others is to ask questions rather than take over us. This helps to foster partnerships and helps to engage us. This tends to unlock our potential. I want to bring out my potential. Please help us do that.
Don't tokenize us
Tokenism Is defined as "Especially, only functional or symbolic efforts to do certain things by hiring a small number of people from underrepresented groups to make them look like sexual or racial equality within the workforce. Practice to do. "
This example at work shows the organization diversified using employee photos and language in marketing materials, but does not listen to the same employee's concerns about LGBTQIA + issues within the organization. is.
Tokenism may seem positive, but it can do more harm than good. People with "tokens" often feel isolated from their peers. This can lead to higher levels of stress, increased attention to human performance, and more discrimination in the future. This has negative consequences for us and the people we work with.
We are all people. Celebrate our victory, but keep in mind that there are very specific struggles that require your true attention for us to prosper. We are more than tokens. We are people and need your true care.
Listen to our story, voice
It is often difficult for us to tell the deepest story. As an ally, listen when we talk. That way, you can repeat them to others who aren't identified as allies. Others need to hear these stories and understand us as you have.
A good place to start is not to hear a response, but to hear an understanding. Deeper work involves making room for a quiet voice and asking questions. Your opinion is okay, but we all know that we are individuals and we need to choose the best approach for us. Working and listening with it is very helpful.
Also, please bring your friends and listen.
Witness our challenge
Our struggle is still being fought. Currently, there are many anti-LGBTQIA + bills in the US Legislature. We have made a profit, but more work will be done. Witness our struggle so that we can continue to fight and help yourself as much as possible.
Beware of harassment and other forms of workplace attacks against us. If one of your teammates finds you uncomfortable or unsafe, stand up and report at that moment. The problem can only be fixed and will only occur if you use the channels provided to report non-inclusive behavior. Check in to that person and report what happened. We also offer to verify their feelings and support them. This amplifies our voice and helps the victims get help. By doing so, I hope that more people will be on your side and make the world a better place together.
After all, we are all and have similar desires. For more information, check to see if your employer has a pride-focused employee resource group, or consider visiting pflag.org/allies. Thank you for reading this and being on your side.
Leslie Devoe is Datto's QA test engineer and Datto's Pride ERG data chair woman.
http://connect.comptia.org/blog/5-ways-to-be-an-ally-with-your-lgbtqia-colleagues-at-work 5 Ways to Alliance with LGBTQIA + Colleagues at Work